About Ewen Chia..
Ewen Chia has been marketing on the internet since 1997 and is widely regarded as one of the early internet marketing pioneers.
Some of his online businesses include AutopilotProfits.com, CopyPasteIncome.com, CompleteBusinessSetUp.com, Autorespond.com and SuperAffiliates.com.
Ewen's mission is to teach internet entrepreneurship and internet marketing as a vehicle for business building, branding, income generation and lead generation.

Ewen Chia's Background
Ewen holds a B(Sc) Management Honors degree from the University of London. After graduation, he held a sales and marketing job, struggling to make ends meet just like every working person. Striving to earn extra income, he started learning and experimenting with the internet business in 1997.
For 5 full years, he worked on his internet business part-time, every single day from 11pm – 2am while still holding a full-time day job.
Ewen was extremely motivated to succeed to build a better life for his family and to clear credit card debts. After many years of perseverance, he finally started to make money online in 2002 and has been doing so every day since then.
From his experience as a self-taught internet entrepreneur, he decided to teach individuals and companies how to use the internet as a business and marketing medium. Ewen created many proven programs, both online and offline, to make the learning of internet business and internet marketing available to everyone.
Ewen is passionate about teaching the internet business because it can truly help people to live a better lifestyle with more time and money freedom. He believes that anyone who is willing to learn and put in the effort can change his or her life with the internet business!
#1 International Best-Selling Author Of "How I Made My First Million On The Internet and How You Can Too!"
When Ewen wrote and launched his first ever print book called "How I Made My First Million On The Internet and How You Can Too!"…
The book made internet marketing history by being the FIRST book about the internet business to debut at the #1 WORLDWIDE BESTSELLER LISTS on Amazon, Barnes & Nobles and many online bookstores at the same time – all in just 24 hours of launch!
Award Winning International Speaker, Educator And Trainer
Besides running his many internet businesses, Ewen is also a sought after award winning international speaker, educator and trainer. He enjoys travelling the world teaching the internet business to anyone willing to learn.
He started conducting offline training in 2006 and has thousands of successful students in over 13 countries!
Ewen has shared the stage with world-famous experts like Sir Richard Branson, Anthony Robbins, Robert Kiyosaki, Jay Abraham, Tony Blair, T Harv Eker, Tom Hopkins, Les Brown, Chris Garnder and Donald Trump, among many others.
He was also awarded the world's first internet marketing trophy, "World Internet Challenge" and "Best Speaker" prizes. Ewen had even conducted a LIVE demonstation where he made US$80,000 in just 3 days from the internet – all in front of a 1,000+ audience!
I feel the need to write an overall article about the untrustworthy nature of Ewen Chia and warn people about his low quality products.
I would like to point out to you, at this point, that I am not accusing Ewen of being a fully blown scam artist but he does have some answering to do and post my opinion only.
A lot of people do feel that he IS a scam artist because the countless products which he has created, and is still selling, are causing people to lose a lot of money.
His Products Are Now Outdated
Google's algorithms have changed and changed for the better. Pre-Panda and Penguin updates it was incredibly easy to manipulate the SERPS and to rank higher in the search engines. This is why Ewen's products are no longer of any use because they are completely outdated.
I have personally reviewed two of his products and I have read reviews from trusted sources such as One More Cup Of Coffee & Stopping Scams and we all agree on the same thing – his products are SO outdated they are no longer valid.
All of his products promote the use of SEO methods which died a quick death over 6 years ago. Such as;
Article spinning.
Building thousands of backlinks.
Article directory submission.
Social media spamming.
Social bookmarking.
Traffic exchanges.
and so on…
About 10% of the advice he gives within his training guides and how-to's is sound advice which still stand true today but the other 90% simply does not work anymore.
Instead of reinventing his products, like most affiliate marketers did after the algorithm changes, he just repackages the same old methods and resells them.
Is He A Scam Artist?
I do not think he is an outright scam artist but he must stop selling these outdated products – or update them to make them relevant. His ethics are in question and I do wonder how a man who found so much success can have the conscience to keep selling products which he KNOWS do not hold any value anymore.
Why does he not update them to bring them up to speed? 
He is very similar to George Brown – the author of the Google Sniper products. He genuinely did have fantastic ways of making money online but when the Google algorithm changed, Ewen was like a fish out of water. He no longer makes money with his methods and now can only make money by re-branding them and selling them to unsuspecting people who do not know any better.
Should You Buy Ewen's Products?
No!
I recommend you do not buy any of Ewen Chia's products until he redeems himself in one way or another. Either he updates all his products and makes a firm statement to say he has done so – or he deletes all his old products and starts fresh.
Below I will include the products for which he is known. Do not buy any of these ClickBank products, should you come across them;
Autopilot Profits
Fast Track Cash!
Autopilot Profits System
$5,000 From Scratch
Superaffiliates.com – The Name Says It All!
Copy Paste Income!
Cash Siphon System
Autopilot Profits – Your Online Atm Machine!
Money On Demand
Turnkey Internet Profits
Profit 365
Cash Biz
Shortcut to $10k
Commission Money Machine
Succeed With IM
All the products above are either created by Ewen or closely associated with him. Do not buy these.
It Doesn't Stop There – Upsells GALORE
If you've purchased many products in this industry, you're probably familiar with the series of hoops you frequently have to jump through after checkout to actually access your product. Upsell, after upsell, after upsell.
Ewen is the king of this, and some of his sites are so old and non-updated that it's nearly impossible to shut down his sales presentations. In both of the products we've reviewed, the "welcome" video has an "X" in the top-right corner to close it, but when you do, Ewen's audio doesn't shut down so you're forced to listen to him drag on and on about something you're not interested in.
And it doesn't even stop once you get into the members' area! You'll find just as many upsells in the training as you'll find video lessons: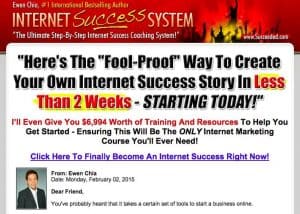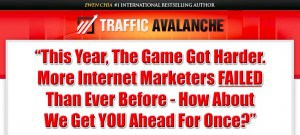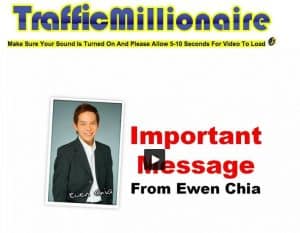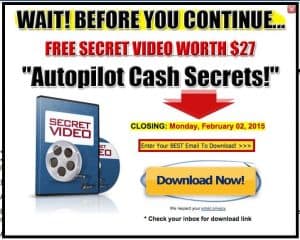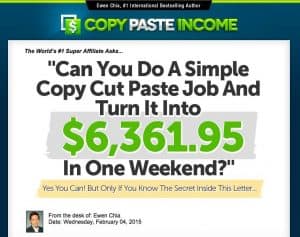 And they all follow the EXACT same sales formula. They promise you a bunch of money that the previous product, the one you've already purchased, promised too! It's a vicious, endless cycle that Ewen Chia throws his customers into as soon as they buy.
And it doesn't stop there. He also tries to cross-sell you into private coaching opportunities, useless software like DesktopLightning, and MLM opportunities like PureLeverage. Ewen's grubby, money-hungry fingers don't stop grabbing at your wallet until you firmly tell him "NO" by closing your browser down and unsubscribing from all of his crappy email lists.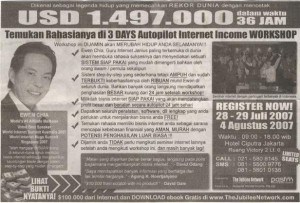 Final Rating: F
So let's do exactly that. If you're researching a Ewen chia product, training, book, coaching class, or even if you're just Googling his name for a date you have with him – turn around and RUN the other direction right now. Avoid him and everything he publishes at all costs. Unsubscribe from his email lists and anyone's email list that sends you an email promoting his products.
This guy is what internet marketing nightmares are made of, but that headline doesn't sell as many products when you put it on your website.
There are extremely good internet marketing training products out there, but Ewen Chia doesn't create them or even tell you they exist. After reviewing over 100 products online, the highest rated review I've conducted absolutely blows away all of Ewen's products, so don't lose hope. Just be willing to work hard, and be very weary of any "shortcuts" like Ewen Chia is promoting.
If you're looking for a legitimate way to make money online without trying to qualify for online surveys or getting paid pennies for your efforts then  Wealthy Affiliate might be what you've been looking for.

Wealthy Affiliate provides free training for all members, this is big. Other programs charge members extra money to attend training classes. If you are going to join Wealthy Affiliate, take our advice, sign up for a free account first.
Wealthy Affiliate aka WA is a service site that teaches you how to build a business from home.
How does it work?
WA teaches you how to build a website through video and task training.
For a Starter Member, you get access to two free SiteRubix websites and 10 free training.
If you are a Premium Member, you get access to everything with no up-sells, how cool is that!
How much does WA cost?
Free for Starter Members.
$49.00 a month for Premium Members or $359 yearly.
What Kind Of Training Is Offered As A Premium Member?
Task Training
Weekly LiveTraining
SEO Optimization
WA Community Support
Video Training
Wealthy Affiliate is a 24/7 educational service that you can do at my time. WA also provides a 24/7 community that is pretty cool.
Everyone is encouraged to help others at WA.
If you need private help, WA's Community is there to help.
WA also has live chat and it's cool because you can get instant help if you want support right away.
Please, give Wealthy Affiliate a try. You can remain a free member for as long as you want and never upgrade to premium. You will keep your two free web sites, access to the Online Entrepreneur Certification Course and much more.
Then, when you decide a premium account will make you more money than it costs, you can go ahead and upgrade at any time.
You have nothing to lose by joining us for free. No one will ask for your credit card or any other payment information to become a Starter Member. So come on over to Wealthy Affiliate. I look forward to welcoming you there.
The Starter Membership is totally free. It's true – no one will ask you for a credit card or other payment information. You have absolutely nothing to lose by trying it. But, doing nothing can be very costly. See what Wealthy Affiliate is all about and join me in the greatest community of online entrepreneurs anywhere in the world. ENJOY:)